Love is in the air!
In honour of Saint Valentine, we have curated a list of famous monuments, inspired by stories of love. From the iconic Taj Mahal of India to the intricate mosaics of the Bibi-Khanym Mosque, here's our round-up of our favourite monuments inspired by love.
---
The Taj Mahal
A symbol of eternal love, the Taj Mahal is perhaps one of the world's most famous monuments. The Taj Mahal was constructed in the 17th century by the Mughal emperor Shah Jahan in honour of his beloved wife, Mumtaz Mahal, who died tragically in childbirth.
The Taj Mahal is an architectural marvel - an extraordinary example of Mughal architecture, as well as combing influence from Persian, Indian, and Islamic styles. Crafted from white marble, the Taj Mahal is known to change colours throughout the day depending on the light.
The Taj Mahal became a UNESCO World Heritage Site in 1983.
---
Kodaji Temple
The Kodaji Temple in Kyoto, Japan is a quiet, tranquil sanctuary surrounded by beautiful gardens. The Kodaji Temple was commissioned in 1624 to honour the life of Toyotomo Hideyoshi, an Imperial Minister who assisted in the unification of Japan. The temple was commissioned by his wife, Kita-no-Mandokoro, also known as Nene.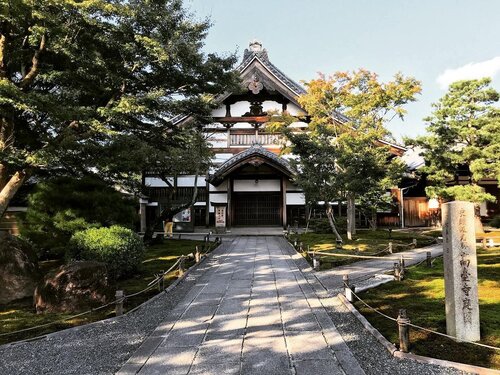 Both Toyotomo Hideyoshi and Kita-no-Mandokoro lie in the memorial hall, where they are both enshrined.
A place of serene surroundings and natural beauty, the temple hosts a series of gardens, including a famous rock garden in the Zen Buddhist tradition.
---
Bibi-Khanym Mosque
Built by the Timurid ruler Timur in honour of his beloved wife Bibi-Khanym, the mosque was once the world's largest and most spectacular mosque. Expert architects from India and Iran were brought in to design this majestic mosque. The mosque was built between 1399 and 1404. Timur's wife was buried in a tomb located in the madrasa complex.
The mosque pushed architectural design and knowledge to the limit - by the time the mosque was completed, the dome had already begun crumbling. Upon completion, it was apparent that the structural integrity of the mosque was fundamentally flawed. An earthquake in 1897 destroyed the mosque - until refurbishment began in the 1970s and continues until present day.
---
What famous monuments celebrate love in your country?
How do you celebrate Saint Valentine's Day? Let us know in the comments!
---
Sources:
https://www.japan-guide.com/e/e3927.html
https://www.kodaiji.com/e_index.html
https://www.britannica.com/topic/Taj-Mahal
https://depts.washington.edu/silkroad/cities/uz/samarkand/bibi.html
---