In our latest Women in Craft series, we spotlight Creative Director Akosua Afriyie-Kumi of AAKS Handcrafted. Her colourful range of ethical handbags are now available on our online marketplace. 
Akosua's design aesthetic is informed by her travels throughout Africa and Europe. Her collections of artisanal handbags and purses showcase the extraordinary art of basket weaving from Ghana.
---
Tell us about your journey. What inspired you to begin designing bags?
I grew up around basket bags as a child in Ghana, I used to give them as gifts and also use them for storage. I remember having a lot of 'I wish it was more like this, I wish it was more like that' moments… I wanted it softer, almost foldable and also more colourful with blends of colours which were tasteful and modern with a beautiful finish and detail. Building on this idea I started researching into bag designs and fibres and found a lot of attractive benefits which were in line with my vision and ethos I had for my dream brand.
Behind the scenes in Ghana. Photo: AAKS
I established AAKS after seeing a gap in the market for beautifully handcrafted bags. I knew I wanted to go out on my own and pull together all my passion and talents to create something unique that would be fulfilling both personally and professionally so I embarked on my journey to Ghana to make this happen.
Three values that guide your day to day?
Spontaneity
Creativity
Courage
What are some of the biggest rewards of working in the craft sector? Challenges?
Through my work in Ghana, we impact the community greatly by providing employment and ensuring the continuity of weaving as an art/technique that can be passed down to the younger generation. We also encourage weaving to be valued as a major income earner for many in the cooperative. I hope that our brand will go someway in contributing to the revival and sustenance of weaving as a thriving art.
The tranquil village where the weavers live. Photo: AAKS
Where do you go for inspiration? What are some of your favourite cultural spots in Ghana?
I seek inspiration from everything around me be it nature, photography or people. There is so much ideas that I get through observation and travelling around Africa and Europe which influences my design aesthetic.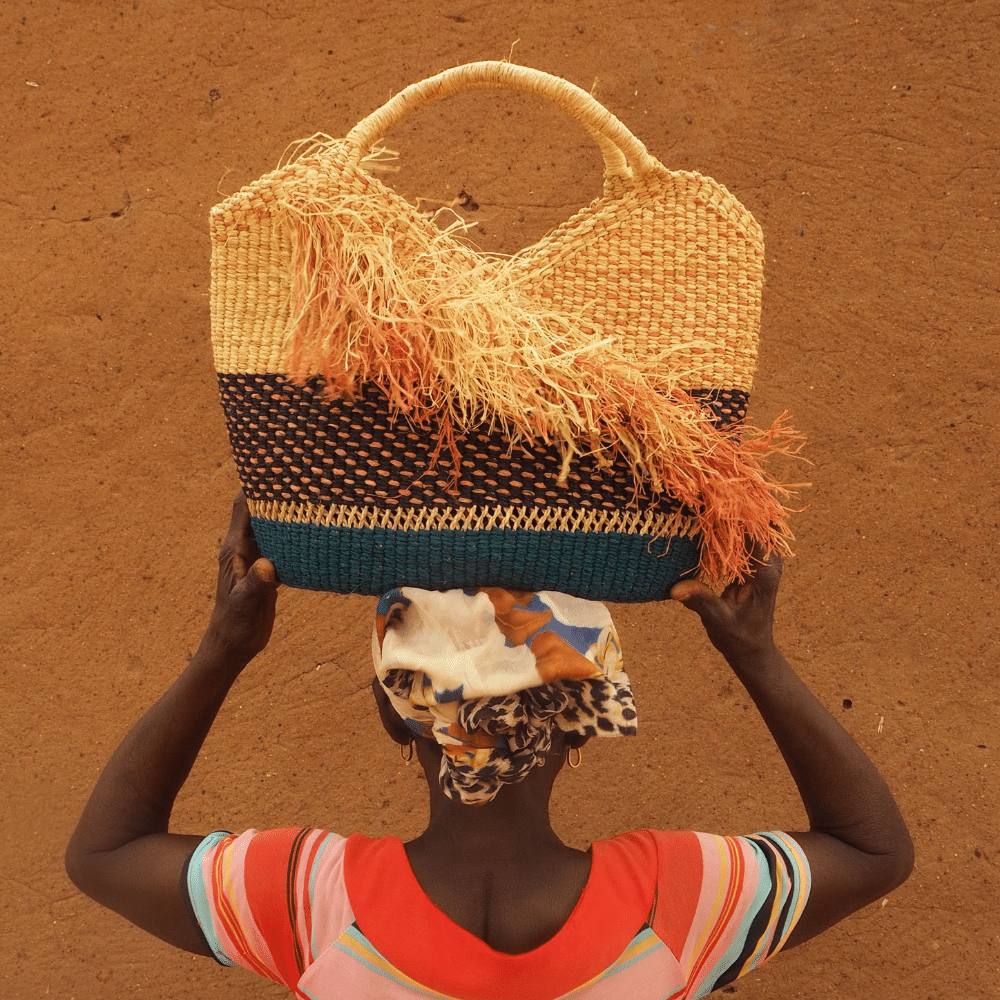 #ToKnowYourArtisan is to know life and the beauty in products made by hand.
---
It was an honour to speak with Akosua and learn more about the craft sector in Ghana.
Discover our latest collection of beautiful artisan handbags made in collaboration with AAKS.