Did you know that coral reefs are more than just homes for sea creatures?
Known as the 'Rainforests of the Sea', coral reefs cover less than 1% of the ocean, but are home to almost 25% of all known marine species. Aside from being a shelter to many species of fish, marine worms and crustaceans, they are an important source of food for local communities.
Coral reefs also contain valuable medicinal properties, and act as natural barriers against storm events. However, these beautiful ecosystems are facing risks of extinction due to global warming, pollution and overfishing.
Vital organisations like the Coral Reef Alliance are fighting to protect our most valuable and threatened marine systems, and we're here to raise further awareness about the importance of the work that they do. We recently launched the Living Coral Scarf in aid of the Coral Reef Alliance, with US$5 from each scarf donated to the non-profits reef protection efforts.
---
So…. who are the Coral Reef Alliance?
The Coral Reef Alliance (CORAL) is a nonprofit organization based in Oakland, California, that brings local reef communities around the world together to protect coral reefs.
CORAL works with the entire spectrum of stakeholders in the reef ecosystem in terms of geography and demographic — from fishermen to government leaders, divers to scientists, and Californians to Fijians — to protect our most valuable and threatened ecosystem.
Originally founded in 1994 to galvanize the dive community around conservation, CORAL has grown from a small, grassroots alliance into a world-renowned organization with a history of successfully working with local communities in coral reef regions around the world to protect their coral reefs.
They believe that for conservation to be durable, their interventions must be aligned with the social, cultural and economic needs of each community and that local leaders must be empowered to lead the effort. This results in a careful multi-pronged approach to restoring and protecting coral reefs.
One of our favorite efforts of CORAL is their focus on reef conservation through the Adaptive Reefscape Inititative. The Adaptive Reefscape Initiative aims to facilitate the adaptation of corals to a changing climate through an innovative conservation blueprint that promotes coral adaptation within diverse, connected and large networks of healthy reefs and enable stronger species of corals to thrive.
---
The Living Coral Scarf
Artisan & Fox excited to support The Coral Reef Alliance and to help fund their work in preserving the world's coral reefs most at risk from climate change.
We designed the Living Coral Scarf, taking inspiration from the beautiful summer hues of turquoise seas and living corals.
The Living Coral scarf is ethically handwoven from 100% silk by our artisan partners in a rural village along the Mekong River in Cambodia and dyed with natural dyes that are azo-free and eco-friendly to the waters and the environment.
US$5 from each Living Coral Scarf will be donated to the Coral Reef Alliance that fights to protect our most valuable and threatened marine systems. Each Living Coral Scarf also provides dignified economic opportunity to artisans in need.
Through the Living Coral Scarf Project, we hope to contribute to environmental conservation through the work of talented artisans by combining ethical craftsmanship and advocacy. We want to share the wonderful work of organisations such as CORAL and encourage more people to be involved in solving environmental and socio-economic issues.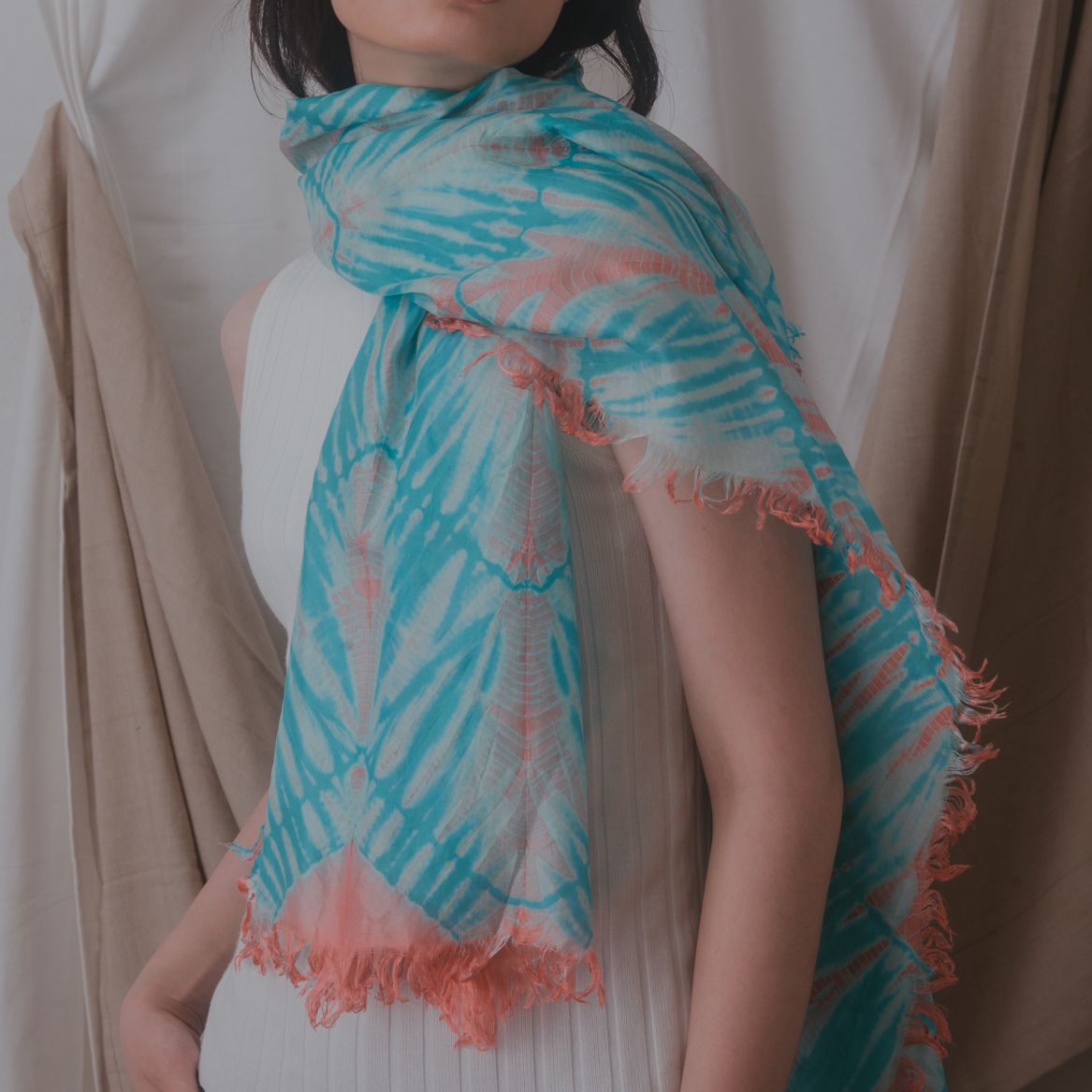 The Living Coral Scarf, made in Cambodia
---
To learn more about CORAL and their conservation efforts, head over to their website at: (https://coral.org/).
---