This blog seeks to take a deep dive into one part of our supply chain: the raw materials.
We've always believed that ethical businesses can change the narrative for entire ecosystems in developing regions. At Artisan & Fox, we seek to uncover the human stories behind the things we love and wear, and this includes knowing the origin of our materials.
As we began our latest not-for-profit project - Aleppene Threads, we sought to take a more critical look into a topic that has gained massive traction in recent years: organic cotton. For our Syrian capsule, we utilised organic cotton tees as the base for our Syrian embroidery, with the organic cotton produced by handworkers in a fair-trade factory in India.
We've heard so many wonderful stories about organic cotton, but wondered, is organic cotton truly a better alternative to the regular cotton, or is it simply a marketing tool?
---
First, here are some fast facts on cotton:
It takes 2,700 litres of water to produce a regular cotton tee, but it takes 71% less water to produce the amount required for an organic tee. This is because organic cotton is 80% rain-fed, and thus requires less irrigation.

55% of all organic cotton around the world comes from India, the second largest producer of cotton behind China. With India facing a lack of clean water supply, the overwhelming amount of water used for cotton production significantly escalates the problem, denying thousands the access to clean drinking water.

Aside from reducing water wastage, the process of growing organic cotton also ensures that soil quality remains high and the ecosystem and the people involved are protected. This is because organic cotton farming eliminates the use of harmful pesticides and chemical dyes that threatens wildlife and pollutes water bodies as it washes out into rivers.
Overwhelmingly, organic cotton uses less water than regular cotton, and is also healthier for the soil and its farmers due to the absence of pesticides.
---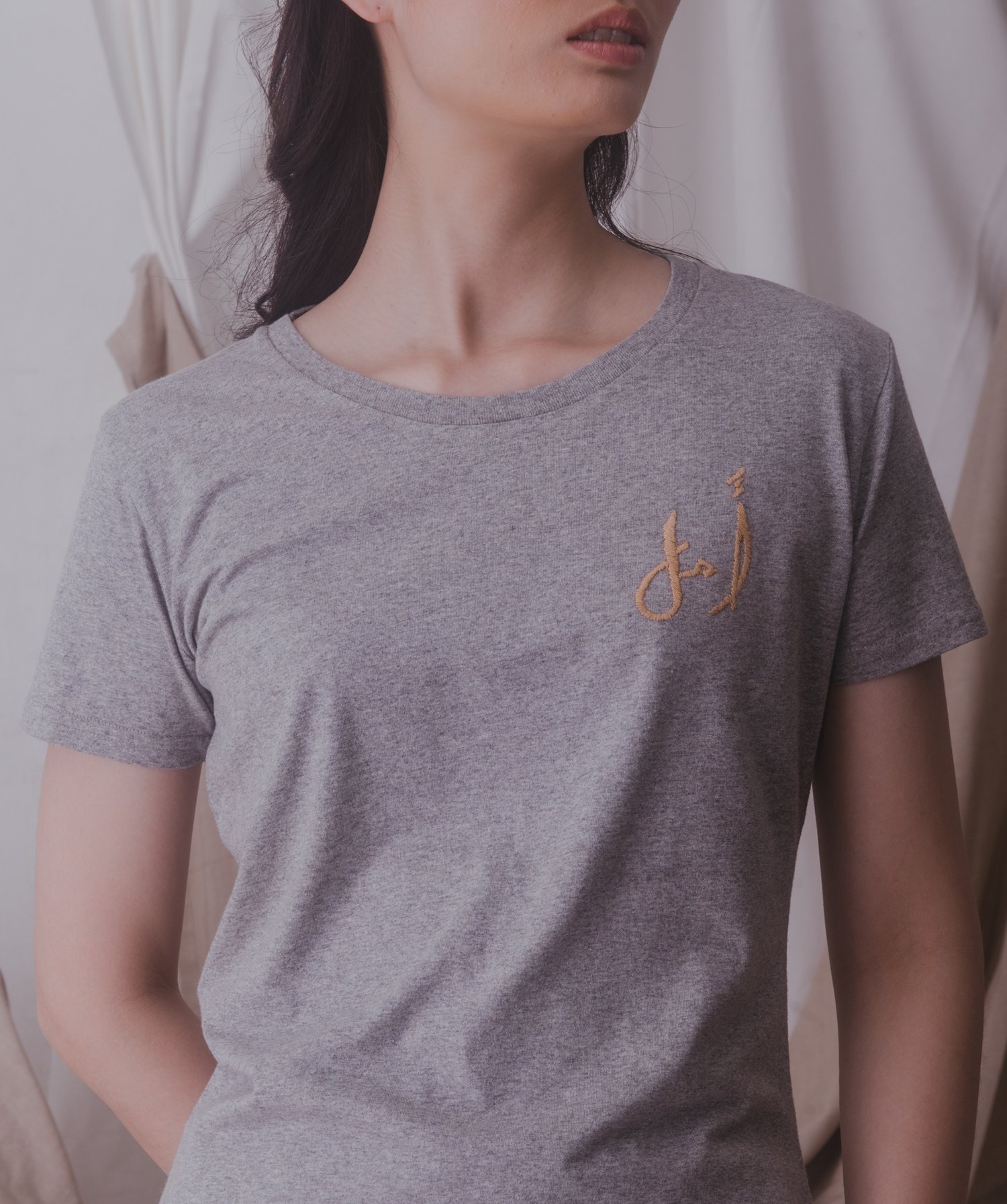 The 'Amal' Cotton Tee in Grey
---
Understanding Provenance
The 'organic' nature of cotton is just one piece of the puzzle.
Just because the material is organic doesn't mean that it is truly ethical. Provenance, transparency, and ethics are also wholly important to us.
We want to ensure that the organic cotton comes from ethical sources, that is, sourced from farms that does not employ child labour, and treat their workers fairly and with dignity. Our organic cotton garments are sourced differently from the main proportion of our crafts - most of our offerings are co-created in much smaller batches in independent workshops and small artisan businesses. Organic cotton is produced on a much larger scale, often by handworkers in mid-to-large sized co-operatives or factories.
Countless brands claiming to use organic cotton in their garments (including us), but as consumers it is difficult to discern between those that really come from ethical sources and those that don't.
This is why we need to look into formal standards. Through our research, we opted for organic cotton garments that are also GOTS certified.  The Global Organic Textile Standard (GOTS) is the world's leading textile processing standard for organic fibres. Apart from ecological standards, it also includes social criteria, backed up by independent certification of the entire textile supply chain. Our organic cotton tees are also GOTS-certified, ensuring that whilst we do not know each individual handworker, we have the confidence that their rights are protected. This way, you also rest assured that your favourite organic cotton pieces are ethically produced and sourced.
Alternatively, you can also head over to Fair Wear Foundation (FWF) to check if your favourite brands are listed as partners. FWF is a non-profit organisation that works with brands, NGOs and governments to improve working conditions for garment workers across Asia, Europe and Africa. They aim to change the garment industry into one that supports workers in realising their rights to safe, dignified and properly paid employment.
---
Our Syrian embroidered tees from the Aleppene Threads capsule collection are sourced from the FWF. Although the tees are Syrian in origin with its embroidery, the grey tees are made of organic cotton from India and are also GOTS certified.
---
The Aleppene Jasmine Tee in White
---
That being said…
Not the entirety of our range is made from organic cotton (though certified fair-trade sources).
For our white Aleppene tees, we decided to opt for a thicker clothing cotton base for a more luxurious and soft feel. These tees do not use organic cotton, but combed cotton, which is softer than regular cotton or typical organic cotton, as it doesn't have any impurities or short protruding threads due to an additional combing process, making it stronger than the regular cotton.
Made from combed cotton with handworkers in Turkey, these white tees are also sourced via FWF.
We realize that we're not perfect, and as we scale up our artisanal clothing goods in 2019, we aim to move towards using 100% sustainable, and organic sources in our pieces.
Fashion Revolution Week has just passed, now is a good time to rethink our everyday choices and what goes behind the things we love and wear. With our collective effort to make conscious purchases, the almost impossible mission of revolutionising the fashion industry can be made possible.
---
Sources:
http://cottonanalytics.com/organic-cotton-hard-to-grow/
http://aboutorganiccotton.org/
https://www.global-standard.org/the-standard/general-description.html
https://sciencing.com/difference-between-combed-cotton-cotton-8375540.html
---